Marta Korczyńska
Technical Assisstant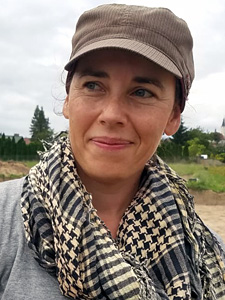 Research interests
Impact of agricultural and livestock farming on local changes in the palaeoenvironment during the Atlantic period in the foothills of Western Małopolska.
Settlement structures in the Bronze Age and Early Iron Age in the Polish Carpathians.
Reconstruction of funeral rites in the Urnfield tradition of Central Europe.
Use of GIS tools and multivariate statistical analyzes in archaeological and palaeobotanical research.
Higher education and employment history
MSc degree at the Jagiellonian University (2007).
Technical assisstant (archeobotanist specialist) at the W. Szafer Institute of Botany, PAS (since 2014).
Membership and awards
Main prize at the poster session at the International Open Workshop "Socio-Environmental Dynamics over the Last 12,000 Years: The Creation of Landscapes V", Kiel University (2017).
International experience
Poland, Germany, Slovakia, Hungary, Greece, Israel and Egypt (2002–2020) – participant of over 30 archaeological excavation campaigns.
Germany (2020–2021) – study of the Lusatian culture cemetery in Radewitz; in cooperation with Landesamt für Archäologie Sachsen.
Research projects
Studien zur neolithischen und bronzezeitlichen Besiedlung und Wirtschaftsweise im Vorfeld der polnischen Westkarpaten (2009–2012); Alexander von Humboldt Stiftung – contractor.
Archaeological, archaeobotanical and palaeoenvironmental investigations in the western part of the Nida Basin (2014–2017); grant no. 2013/11/B/HS3/03822; National Science Centre (NCN) – contractor.
Inheritance, social network or local adaptation? Bronze and Early Iron Age societies in western Małopolska (2014–2018); grant no. 2013/11/B/HS3/04404; National Science Centre (NCN) – contractor.
Searching for a suitable place to settle down: the plant economy and human-environment interactions at the beginning of the Neolithic period in Małopolska (2019–2023); grant no. 2018/30/E/HS3/00867; National Science Centre (NCN) – contractor.
Recent publications (selected)
in preparation