Dr Anna Ronikier
Associate Professor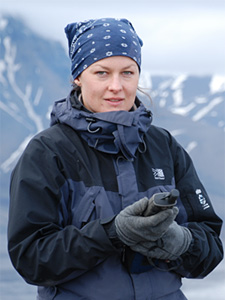 Research interests
Taxonomy and patterns of diversity and distribution of fungi, especially those associated with arctic and alpine ecosystems.
Taxonomy, phylogeny, ecology and nomenclature of myxomycetes.
Global biogeography of nivicolous myxomycetes.
Arctic-alpine communities of mycorrhizal fungal and plant species.
Diversity and distribution of fungi and myxomycetes in Poland, with a special emphasis on rare and threatened species.
Recent publications (selected)
Janik P., Lado C., Ronikier A. 2020. Range-wide phylogeography of a nivicolous protist Didymium nivcola Meyl. (Myxomycetes, Amoebozoa): Striking contrasts between the Northern and the Southern Hemisphere. Protist 171: 125771. DOI
Janik P., Ronikier M., Ronikier A. 2020. New protocol for successful isolation and amplification of DNA from exiguous fractions of specimens: a tool to overcome the basic obstacle in molecular analyses of myxomycetes. PeerJ 8: e8406. DOI
Ronikier A., García-Cunchillos I., Janik P., Lado C. 2020. Nivicolous Trichiales from the austral Andes: unexpected diversity including two new species. Mycologia 112: 753–780. DOI
Ronikier A., Halamski A.T. 2018. Is Myxomycetes (Amoebozoa) a truly ambiregnal group? A major issue in protist nomenclature. Protist 169: 484–493. DOI
Zamora J.C., Svensson M., Kirschner R., Olariaga I., Ryman S., Parra L.A., Geml J., Rosling A., Adamčík S., Ahti T., Aime M.C., Ainsworth A.M., Albert L., Albertó E., Altés García A., Ageev D., Agerer R., Aguirre-Hudson B., Ammirati J., Andersson H., Angelini C., Antonín V., Aoki T., Aptroot A., Argaud D., Arguello Sosa B.I., Aronsen A., Arup U., Asgari B., Assyov B., Atienza V., Bandini D., Baptista-Ferreira J.L., Baral H.O., Baroni T., Barreto R.W., Beker H., Bell A., Bellanger J.M., Bellù F., Bemmann M., Bendiksby M., Bendiksen E., Bendiksen K., Benedek L., Bérešová-Guttová A., Berger F., Berndt R., Bernicchia A., Biketova A.Y., Bizio E., Bjork C., Boekhout T., Boertmann D., Böhning T., Boittin F., Boluda C.G., Boomsluiter M.W., Borovička J., Brandrud T.E., Braun U., Brodo I., Bulyonkova T., Burdsall Jr. H.H., Buyck B., Burgaz A.R., Calatayud V., Callac P., Campo E., Candusso M., Capoen B., Carbó J., Carbone M., Castañeda-Ruiz R.F., Castellano M.A., Chen J., Clerc P., Consiglio G., Corriol G., Courtecuisse R., Crespo A., Cripps C., Crous P.W., da Silva G.A., da Silva M., Dam M., Dam N., Dämmrich F., Das K., Davies L., De Crop E., De Kesel A., De Lange R., De Madrignac Bonzi B., dela Cruz T.E.E., Delgat L., Demoulin V., Desjardin D.E., Diederich P., Dima B., Dios M.M., Divakar P.K., Douanla-Meli C., Douglas B., Drechsler-Santos E.R., Dyer P.S., Eberhardt U., Ertz D., Esteve-Raventós F., Etayo Salazar J.A., Evenson V., Eyssartier G., Farkas E., Favre A., Fedosova A.G., Filippa M., Finy P., Flakus A., Fos S., Fournier J., Fraiture A., Franchi P., Franco Molano A.E., Friebes G., Frisch A., Fryday A., Furci G., Galán Márquez R., Garbelotto M., García-Martín J.M., García Otálora M.A., García Sánchez D., Gardiennet A., Garnica S., Garrido Benavent I., Gates G., Gerlach A.C.L., Ghobad-Nejhad M., Gibertoni T.B., Grebenc T., Greilhuber I., Grishkan B., Groenewald J.Z., Grube M., Gruhn G., Gueidan C., Gulden G., Gusmão L.F.P., Hafellner J., Hairaud M., Halama M., Hallenberg N., Halling R.E., Hansen K., Harder C.B., Heilmann-Clausen J., Helleman S., Henriot A., Hernandez-Restrepo M., Herve R., Hobart C., Hoffmeister M., Høiland K., Holec J., Holien H., Hughes K., Hubka V., Huhtinen S., Ivančevi B., Jagers M., Jaklitsch W., Jansen A.E., Jayawardena R.S., Jeppesen T.S., Jeppson M., Johnston P., Jørgensen P.M., Kärnefelt I., Kalinina L.B., Kantvilas G., Karadelev M., Kasuya T., Kautmanová I., Kerrigan R.W., Kirchmair M., Kiyashko A., Knapp D.G., Knudsen H., Knudsen K., Knutsson T., Kolařík M., Kõljalg U., Košuthová A., Koszka A., Kotiranta H., Kotkova V., Koukol O., Kout J., Kovács G.M., Kříž M., Kruys Å., Kučera V., Kudzma L., Kuhar F., Kukwa M., Kumar T.K.A., Kunca V., Kušan I., Kuyper T.W., Lado C., Læssøe T., Lainé P., Langer E., Larsson E., Larsson K.H., Laursen G., Lechat C., Lee S., Lendemer J.C., Levin L., Lindemann U., Lindström H., Liu X., Llarena Hernandez R.C., Llop E., Locsmándi C., Lodge D.J., Loizides M., Lőkös L., Luangsa-ard J., Lüderitz M., Lumbsch T., Lutz M., Mahoney D., Malysheva E., Malysheva V., Manimohan P., Marin-Felix Y., Marques G., Martínez-Gil R., Marson G., Mata G., Matheny P.B., Mathiassen G.H., Matočec N., Mayrhofer H., Mehrabi M., Melo I., Meši A., Methven A.S., Miettinen O., Millanes Romero A.M., Miller A.N., Mitchell J.K., Moberg R., Moreau P.A., Moreno G., Morozova O., Morte A., Muggia L., Muñoz González G., Myllys L., Nagy I., Nagy L.G., Neves M.A., Niemelä T., Nimis P.L., Niveiro N., Noordeloos M.E., Nordin A., Noumeur S.R., Novozhilov Y., Nuytinck J., Ohenoja E., Oliveira Fiuza P., Orange A., Ordynets A., Ortiz-Santana B., Pacheco L., Pál-Fám F., Palacio M., Palice Z., Papp V., Pärtel K., Pawlowska J., Paz A., Peintner U., Pennycook S., Pereira O.L., Pérez Daniëls P., Pérez-De-Gregorio Capella M.À., Pérez del Amo C.M., Pérez Gorjón S., Pérez-Ortega S., Pérez-Vargas I., Perry B.A., Petersen J.H., Petersen R.H., Pfister D.H., Phukhamsakda C., Piątek M., Piepenbring M., Pino-Bodas R., Pinzón Esquivel J.P., Pirot P., Popov E.S., Popoff O., Prieto Álvaro M., Printzen C., Psurtseva N., Purahong W., Quijada L., Rambold G., Ramírez N.A., Raja H., Raspé O., Raymundo T., Réblová M., Rebriev Y.A., Reyes García J.D., Ribes Ripoll M.A., Richard F., Richardson M.J., Rico V.J., Robledo G.L., Rodrigues Barbosa F., Rodriguez-Caycedo C., Rodriguez-Flakus P., Ronikier A., Rubio Casas L., Rusevska K., Saar G., Saar I., Salcedo I., Salcedo Martínez S.M., Salvador Montoya C.A., Sánchez Ramírez S., Sandoval-Sierra J.V., Santamaria S., Santana Monteiro J., Schroers H.J., Schulz B., Schmidt-Stohn G., Schumacher T., Senn-Irlet B., Ševčíková H., Shchepin O., Shirouzu T., Shiryaev A., Siepe K., Sir E.B., Sohrabi M., Soop K., Spirin V., Spribille T., Stadler M., Stalpers J., Stenroos S., Suija A., Sunhede S., Svantesson S., Svensson S., Svetasheva T.Yu., Świerkosz K., Tamm H., Taskin H., Taudière A., Tedebrand J.-O., Tena Lahoz R., Temina M., Thell A., Thines M., Thor G., Thüs H., Tibell L., Tibell S., Timdal E., Tkalčec Z., Tønsberg T., Trichies G., Triebel D., Tsurykau A., Tulloss R.E., Tuovinen V., Ulloa Sosa M., Urcelay C., Valade F., Valenzuela Garza R., van den Boom P., Van Vooren N., Vasco-Palacios A.M., Vauras J., Velasco Santos J.M., Vellinga E., Verbeken A., Vetlesen P., Vizzini A., Voglmayr H., Volobuev S., von Brackel W., Voronina E., Walther G., Watling R., Weber E., Wedin M., Weholt Ø., Westberg M., Yurchenko E., Zehnálek P., Zhang H., Zhurbenko M.P., Ekman S. 2018. Considerations and consequences of allowing DNA sequence data as types of fungal taxa. IMA Fungus 9: 167–175. DOI
Ronikier A., Bochynek A., Chachuła P., Kozik J., Kubiak D., Perz P., Salamaga A. 2017. Revision of the genus Licea (Myxomycetes) in Poland. Nova Hedwigia 104: 243–272. DOI
Adamčík S., Slovák M., Eberhardt U., Ronikier A., Jairus T., Hampe F., Verbeken A. 2016. Molecular inference, multivariate morphometrics and ecological assessment are applied in concert to delimit species in the Russula clavipes complex. Mycologia 108: 716–730. DOI
Feng Y., Klahr A., Janik P., Ronikier A., Hoppe T., Novozhilov Y.K., Schnittler M. 2016. What an intron may tell: several sexual biospecies coexist in Meriderma spp. (Myxomycetes). Protist 167: 234–253. DOI
Janik P., Ronikier A. 2016. Meriderma species (Myxomycetes) from the Polish Carpathians: a taxonomic revision using SEM-visualized spore ornamentation. Acta Societatis Botanicorum Poloniae 85: 3492. DOI
Ronikier A., Lado C. 2015. Nivicolous Stemonitales from the Austral Andes: analysis of morphological variability, distribution and phenology as a first step toward testing the large-scale coherence of species and biogeographical properties. Mycologia 107: 258–283. DOI