Towards better management of urban greenery – the impact of mowing on the roadside lawn ecosystem
Funding
Ministry of Education and Science; within the program "Science for society" (amount of funding: 1 070 374 PLN)
Number
NdS/550099/2022/2023
Leader
Dr Małgorzata Stanek
Summary
Urban greenery, which includes parks, boulevards, allotment gardens, green belts along roads, etc., is an essential element of urban space. It has several important functions – it provides leisure, recreation, health and protection benefits to people, thus improving the standard of living in cities. Properly managed urban greenery can also be an effective tool for protecting biodiversity, helping to compensate for the damage resulting from progressing urbanization. Urban greenery maintenance measures are a constant subject of public debate today, and one of the most frequently discussed issues is the frequency of mowing lawns. Previous studies have shown that limiting this frequency, apart from being associated with lower costs and lower emissions of pollutants and noise (from working mowers), favours the species richness of plants and invertebrates.
This project – carried out in cooperation with the Kraków Municipal Greenspace Authority, the Katowice Municipal Greenspace Authority and the University of Silesia in Katowice – aims to comprehensively assess the impact of mowing frequency on the ecosystem of roadside urban lawns. The research will be conducted in Kraków and Katowice, cities with a high level of air pollution, in study plots with three different mowing frequencies and different distances from the road (to assess the level of accumulation of pollutants from car traffic). The species composition and diversity of plants, as well as several parameters describing the structure and functioning of soil microorganisms (so far, rarely studied in the context of the frequency of mowing urban lawns), will be investigated. Among other things, the activity of enzymes involved in the decomposition of dead organic matter, the biomass of microorganisms and the taxonomic composition of soil bacteria and fungi will be determined using modern methods, such as Next Generation Sequencing. The soil will be analysed in terms of short- and long-term dynamics of temperature and humidity, as well as the content of several elements, including heavy metals (chromium, nickel, cadmium, lead, etc.), road salt, and organic pollutants (petroleum hydrocarbons and polycyclic aromatic hydrocarbons). The research will be conducted over two growing seasons.
We expect that reducing the frequency of mowing lawns will have a positive impact on the functioning of the soil system (the diversity and activity of soil microorganisms will increase), which will result, among others, from the increase in plant diversity, improvement of temperature and humidity conditions and reduction of the deposition of pollutants from road traffic (increased plant biomass = more intense immobilization of pollutants).
The project will also include an educational part for children, teachers and employees of urban greenery management departments. Theoretical and practical classes will be conducted in the laboratory and in the field, including, among others, the identification of plants and invertebrates and the performance of simple laboratory soil analyses. Their goal will be to broaden the knowledge of nature, increase participants' sensitivity to environmental problems and shape pro-environmental attitudes.
See the project website.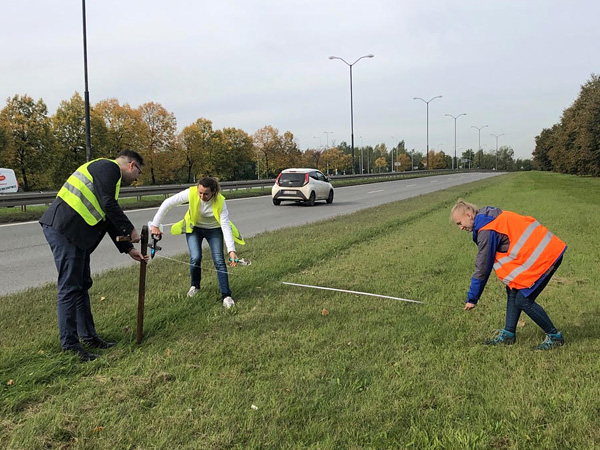 Selection of study sites.
Photo: Magdalena Pardon.