The Fragmenta Floristica et Geobotanica Polonica journal relaunches
We are pleased to announce that from January 2023 our Institute resumes (suspended in 2020) publishing of the scientific journal Fragmenta Floristica et Geobotanica Polonica. This decision was made in response to numerous appeals from the scientific community, as well as in accordance with the mission of social responsibility of science, carried out by the W. Szafer Institute of Botany of the Polish Academy of Sciences (IB PAS).
Fragmenta Floristica et Geobotanica Polonica in its current form, as a national and Polish-language scientific journal, has been published since 1994. Its history, however, begins earlier, in 1953, when the periodical Fragmenta Floristica et Geobotanica was launched. It was edited by Professor B. Pawłowski and the Editorial Committee consisting of distinguished members of the Polish Botanical Society (PBS). Until 1956, the publisher of this journal was PBS, and from 1957 IB PAS.
For over 25 years of its existence, Fragmenta Floristica et Geobotanica Polonica has been a unique platform for exchanging scientific information on native vegetation and flora, as well as a place to popularize botanical knowledge. The journal has promoted basic research in a wide range of botanical sciences, including plant taxonomy, geography and ecology, with particular emphasis on documenting the diversity of Poland's vegetation on regional and local scales. Data published in the journal are invaluable source material for syntheses and meta-analyses. They also have a practical dimension: they are used, for example, in the preparation of nature protection plans or plans for the development of green areas in cities. Among the authors of the articles are experienced researchers, young scientists who are just starting their scientific path, as well as nature enthusiasts who present the results of their field observations.
The editors of the journal invite submissions of original papers in the field of broadly understood botany and mycology (including plant and fungal taxonomy, ecology, geography, anatomy, cytology, embryology, biosystematics, biodiversity protection, etc.). In addition to original research, review papers, polemics, and memoirs will be published.
The journal follows the Open Access policy and is indexed in the following databases: AGRO, Biological Abstracts, BIOSIS Previews, EBSCO, Google Scholar, ICI Journals Master List/ICI World of Journals, Index Copernicus, WorldCat, Polish Scientific Journals Contents, Polska Bibliografia Naukowa (PBN), CEON – Centrum Otwartej Nauki. The electronic version is the reference version of the journal.
Manuscripts (in Polish with English summaries) should be submitted via the Editorial System available on the Fragmenta Floristica et Geobotanica Polonica website.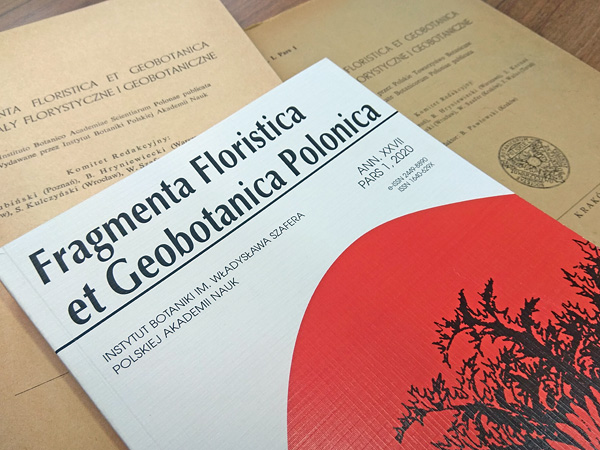 One of the last issues of Fragmenta Floristica et Geobotanica Polonica (in the foreground) and the first issues, from 1953 and 1957, of Fragmenta Floristica et Geobotanica (in the background).
Photo: Paweł Kapusta.