Face vessel from Biskupice – Artefact of the Month at the Archaeological Museum in Kraków
In January 2023, at the Archaeological Museum in Kraków, an exceptional artefact found in Poland can be seen – a fragment of a human face vessel dated to more than 7000 years. This pottery fragment was discovered at the Biskupice site, on the Early Neolithic settlement related to the Linear Pottery culture, during the excavation works conducted as part of the scientific project entitled "Searching for a suitable place to settle down: the plant economy and human-environment interactions at the beginning of the Neolithic period in Małopolska", led by Magdalena Moskal-del Hoyo from our Institute (see also news from July 2021).
You can read more about the artefact on the Museum's website. Museum's website (in Polish only).
A detailed description of stylistic features against the background of artefacts with representations of human faces is included in the article.:
Korczyńska M., Kenig R., Nowak M., Czekaj-Zastawny A., Nowak M., Moskal-del Hoyo M. 2021. The Linear Pottery culture face vessel from the site Biskupice 18, southern Poland. Sprawozdania Archeologiczne 71: 389–420. DOI
Face vessel fragment from Biskupice from 7000 years ago.
Photo: Magdalena Moskal-del Hoyo.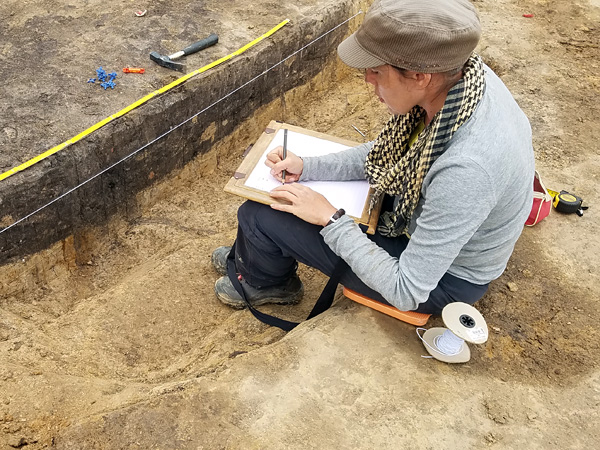 Preparation of drawing documentation.
Photo: Magdalena Moskal-del Hoyo.
Top view of archaeological excavations. The white buckets contain archaeobotanical samples.
Photo: Marta Korczyńska-Cappenberg.