A botanist from our Institute helps solve the mystery of the painted lady butterfly's overwintering grounds – publication in PNAS
Long-distance migration of insects is a poorly understood phenomenon, although it has serious consequences for the functioning of entire ecosystems. The painted lady butterfly (Vanessa cardui) has recently become a model species for the ecology of such migrations, which was supported by research conducted by Tomasz Suchan from our Institute.
Painted lady butterfly populations perform long multigenerational migrations between Europe and Africa. Until recently, only the northern part of the migration route, traversed in the period from spring to autumn, was well documented, while knowledge about the butterfly's overwintering grounds in Africa remained rudimentary. Scientific expeditions to tropical Africa changed this situation. One of them was attended by Tomasz Suchan, who helped identify the host plants, i.e. the plants on which the caterpillars of the painted lady butterfly were feeding, and trained local researchers in the methods of monitoring both the host plants and the butterflies. The results of the observations made during this expedition have been published in the renowned journal Proceedings of the National Academy of Sciences USA (PNAS). The article describes previously unknown places of occurrence and development of the butterfly in Africa, presents data on the phenology of its appearances and introduces improved models of ecological niche, allowing for the identification of potential reproduction sites of this species on a continental scale. The article also describes in detail the plants on which butterfly caterpillars feed in various regions of Africa. The results show that in the annual migration cycle, the painted lady butterfly can cover distances of up to 15,000 km, which is an undoubted record among all known butterfly species.
The published work is a spectacular example of interdisciplinary research, which would be impossible to carry out without international cooperation and the participation of specialists from many scientific disciplines – including botany.
See the original article:
Talavera G., García-Berro A., Talla V.N.K., Ng'iru I., Bahleman F., Kébé K., Nzala K.M., Plasencia D., Marafi M.A.J., Kassie A., Goudégnon E.O.A., Kiki M., Benyamini D., Reich M.S., López-Mañas R., Benetello F., Collins S.C., Bataille C.P., Pierce N.E., Martins D.J., Suchan T., Menchetti M., Vila R. 2023. The Afrotropical breeding grounds of the Palearctic-African migratory painted lady butterflies (Vanessa cardui). PNAS 120: e2218280120. DOI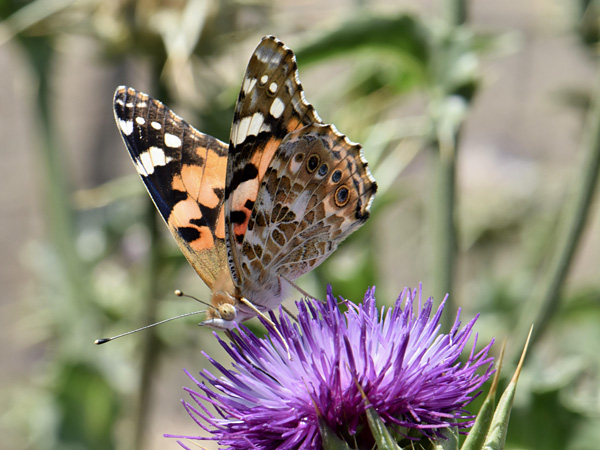 The painted lady butterfly.
Photo: Tomasz Suchan.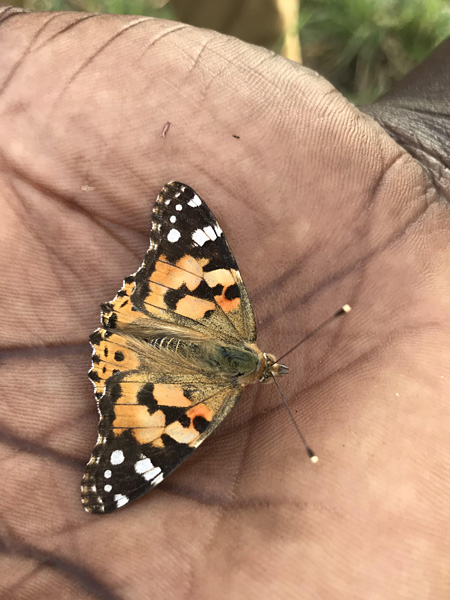 The painted lady butterfly.
Photo: Tomasz Suchan.
The caterpillar of the painted lady butterfly on a leaf of the host plant, Cirsium vulgare.
Photo: Tomasz Suchan.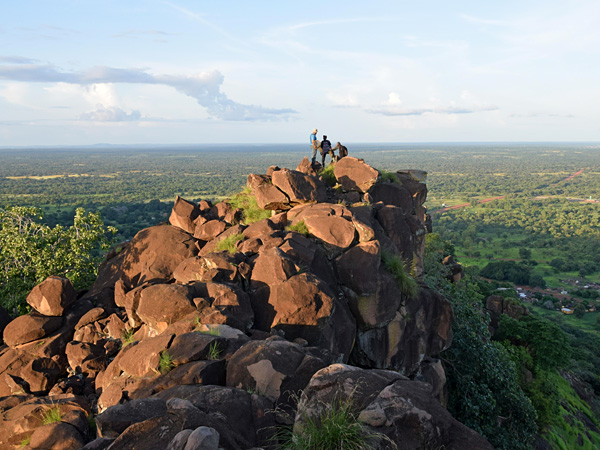 Monitoring of the painted lady butterfly on a hill near Kédougou, Senegal.
Photo: Tomasz Suchan.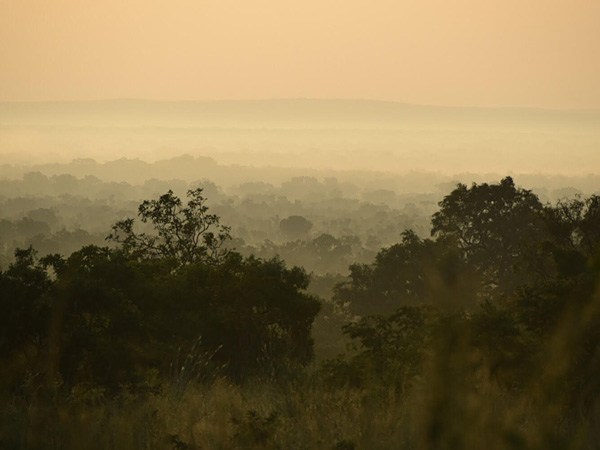 Scenery of the Pendjari National Park in northern Benin – one of the study sites.
Photo: Tomasz Suchan.