In the Stone Age, Masurian foragers used wood with low mechanical properties
The answer to the question of whether pre-agrarian communities exploited the local timber resources is obvious, but a number of issues require detailed palaeobotanical research. These include the following: which species of wood were selected by foragers living in the area; whether the selection was related to the mechanical properties of wood; for what purposes they used wood with certain characteristics?
The peat-bog archaeological site in the village of Szczepanki (Masurian Lake District, NE Poland) turned out to be an ideal object for the analysis of palaeoenvironmental issues related to the activities of the little known Zedmarians. After millennia, our research allowed us to look at the lives of the inhabitants of an island on a lake that no longer exists today. The para-Neolithic Zedmar culture developed in Masuria, ca. 4500 - 2800 cal. BC (post-Zedmar), initiated the production of ceramics and a new style of settlement and economy. Studies of fossil plant remains buried in peat and lake sediment, in which the history of the past economy is recorded, showed that an essential role in the economy of the Zedmar culture population was played by not very durable wood, with medium or low strength and hardness, but easily fissile and amenable to processing. In addition, other useful properties such as flexibility, lightness, water resistance, strength, and ease of splitting were favored in the selection.
The results of joint research by a team of archaeologists from the University of Warsaw, led by Dr. Witold Gumiński, and palaeobotanists from our Institute, Dr. Agnieszka Wacnik and Dr. Katarzyna Cywa, can be found in the article:
Wacnik A., Gumiński W., Cywa K., Bugajska K. 2020. Forests and foragers: exploitation of wood resources by Mesolithic and para-Neolithic societies in north-eastern Poland. Vegetation History and Archaeobotany 29: 717–736. DOI
Fragments of Pinus slats, the remains of a cage (creel) for keeping live fish.
Photo: Witold Gumiński.
Studied archaeological site in the village of Szczepanki.
Photo: Agnieszka Wacnik.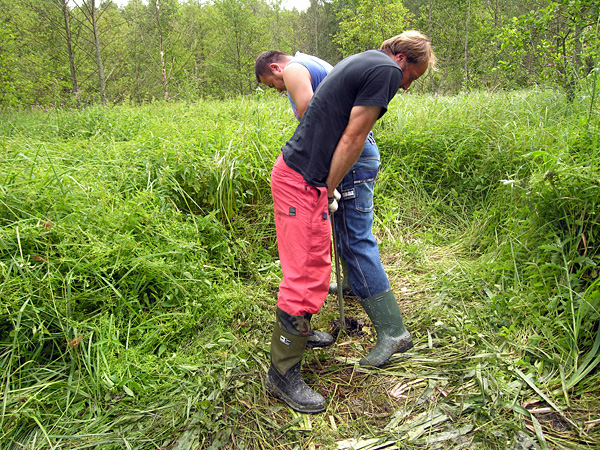 Collecting of sediments with the Instorf corer.
Photo: Agnieszka Wacnik.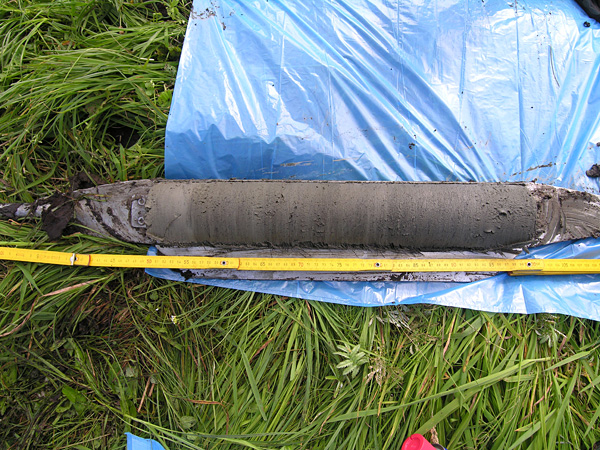 Core of sediments (gyttja) collected for palynological studies at the Szczepanki 8 site.
Photo: Agnieszka Wacnik.