Does reproduction increase with size? – new publication in PNAS
Tree fruits and nuts are a very important component of the human diet and the diet of many species of animals, while tree seeds are vital for forest regeneration. Forecasting the abundance of fruiting is therefore of great economic and ecological importance. Magdalena Żywiec, Barbara Seget and Łukasz Piechnik, scientists from our Institute, are part of an international team of several dozen researchers, led by Professor James S. Clark from Duke University and studying the mechanisms governing tree fruiting as part of the MASTIF (Masting Inference and Forecasting) project. The MASTIF global database contains detailed data, often dating back many decades, on the annual seed production of trees growing in more than 500 different locations in North and South America, Asia, Europe, and Africa. The publication in the latest issue of Proceedings of the National Academy of Sciences presents a model of the relationship between the abundance of fruit production and the size of trees. Although it seems intuitively logical to assume that the ability of trees to produce fruits and seeds will increase with the tree size, the latest research does not support this hypothesis. The analyzes carried out on about 600 tree species proved that in 80% of them fruiting reaches the highest values when the individuals reach intermediate sizes. As trees continue to increase in size, fruit production begins to decline.
See the original article:
Qiu T., Aravena M.-C., Andrus R., Ascoli D., Bergeron Y., Berretti R., Bogdziewicz M., Boivin T., Bonal R., Caignard T., Calama R., Camarero J.J., Clark C.J., Courbaud B., Delzon S., Calderon S.D., Farfan-Rios W., Gehring C.A., Gilbert G.S., Greenberg C.H., Guo Q., Lambers J.H.R., Hoshizaki K., Ibanez I., Journé V., Kilner C.L., Kobe R.K., Koenig W.D., Kunstler G., LaMontagne J.M., Ledwon M., Lutz J.A., Motta R., Myers J.A., Nagel T.A., Nuñez C.L., Pearse I.S., Piechnik Ł., Poulsen J.R., Poulton-Kamakura R., Redmond M.D., Reid C.D., Rodman K.C., Scher C.L., Van Marle H.S., Seget B., Sharma S., Silman M., Swenson J.J., Swift M., Uriarte M., Vacchiano G., Veblen T.T., Whipple A.V., Whitham T.G., Wion A.P., Wright S.J., Zhu K., Zimmerman J.K., Żywiec M., Clark J.S. 2021. Is there tree senescence? The fecundity evidence. PNAS 118: e2106130118. DOI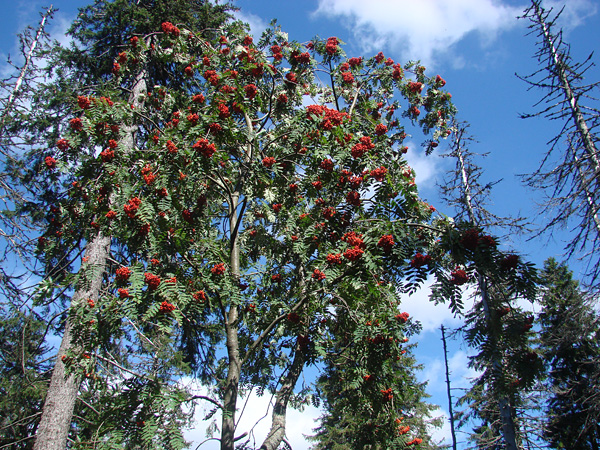 Fruiting Sorbus aucuparia tree.
Photo: M. Żywiec.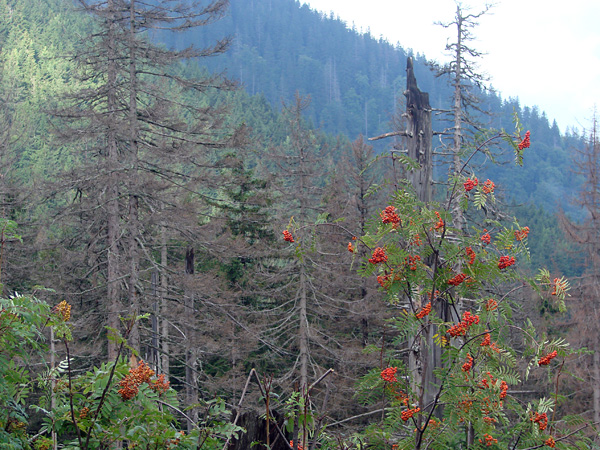 Fruiting Sorbus aucuparia trees.
Photo: M. Żywiec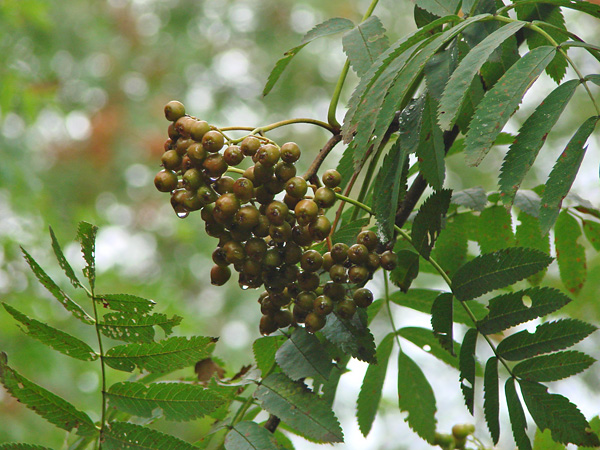 Fruits of Sorbus aucuparia.
Photo: M. Żywiec.